Mommy Makeover (Post-Pregnancy Rejuvenation)
$1,000 Off Your Mommy Makeover
Being a Mom is hard. Getting your body back after pregnancy shouldn't be.
Enjoy this Free $1,000 gift off your Mommy Makeover procedure.
Learn More From Our Doctors
Get Your Body Back!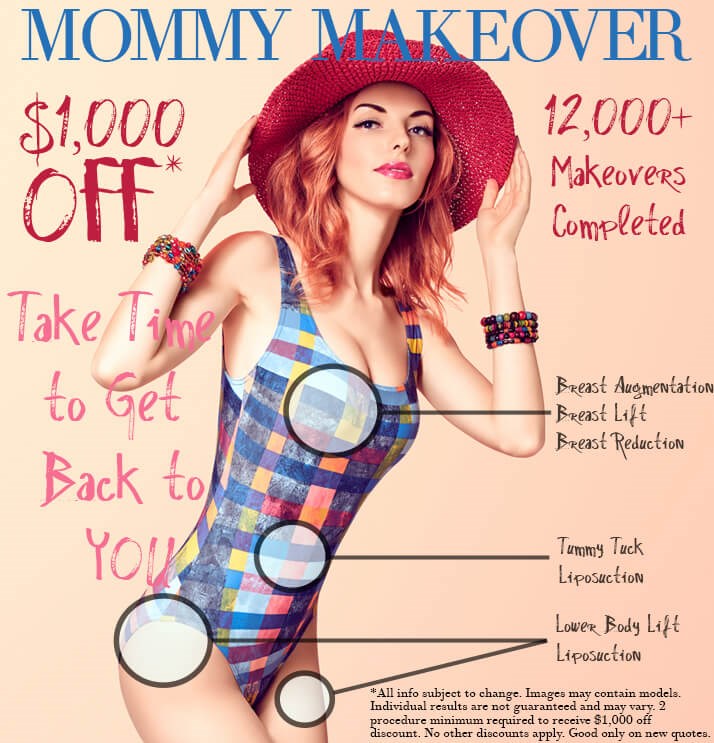 Why Get a Mommy Makeover?
Pregnancy changes your body. Why not make a change to get your body back?
Mommy Makeovers can be a solution to natural changes in your body resulting from pregnancy. InsideLook MD's doctors have performed over 12,000 Mommy Makeovers combined. Most women report improved confidence, appearance, and sex life after their Makeover.
Give yourself the opportunity to talk to a doctor and learn your options for getting back the body you want.
Request a FREE in-depth Consultation.
Want to Learn More? Let our Doctors help you.
What Our Patients Think
"Dr Farias is very caring and made sure all my questions were answered and concerns addressed prior to surgery. He spent as much time with me as I needed. I felt very well informed and comfortable going into surgery. I recommend Dr. Farias to anyone desiring to look more refreshed and youthful!
"Dr. Paresi gave me back the body, self confidence and life I hadn't known since my 20s and before becoming a Mom."
"Dr. Paresi is an unbelievably talented surgeon. From his impeccable bedside manner to his genuine post operative care, Dr. Paresi gave me my self confidence back. I am pleased beyond words with the results of my surgery and would highly recommend Dr. Paresi and all of the staff at InsideLook MD of Chicago"
Dreaming of a Youthful Look?
Why wait another year to receive the natural look that you feel on the inside? Click the button below to speak with a doctor about how you can look as vibrant on the outside as you feel on the inside.
Request Consultation